Food has always been a 'social' affair – cooking, eating, sharing have brought together people since the beginning of time. Lately (well, at least in the the last 10 years I have been blogging… a lifetime!) food and social intertwined via blogs.
Blogging was the 'new' social part of food: sharing cooking recipes, sharing reviews of meals cooked or eaten in restaurants, sharing photos of all of the above, engaging with a virtual audience. So what is the 'now' social part of food? Seems to be … social media.
During the last BxlFF event link we were fortunate enough to have Miss Foodwise share her secrets around food blogging. And social media. There were ohs and there were ahs, there was laughter, and overall a lot to take in. I think a full day around the subject would not have been enough with all the food blogging brains the room … so in no particular order the 5 tips I picked up: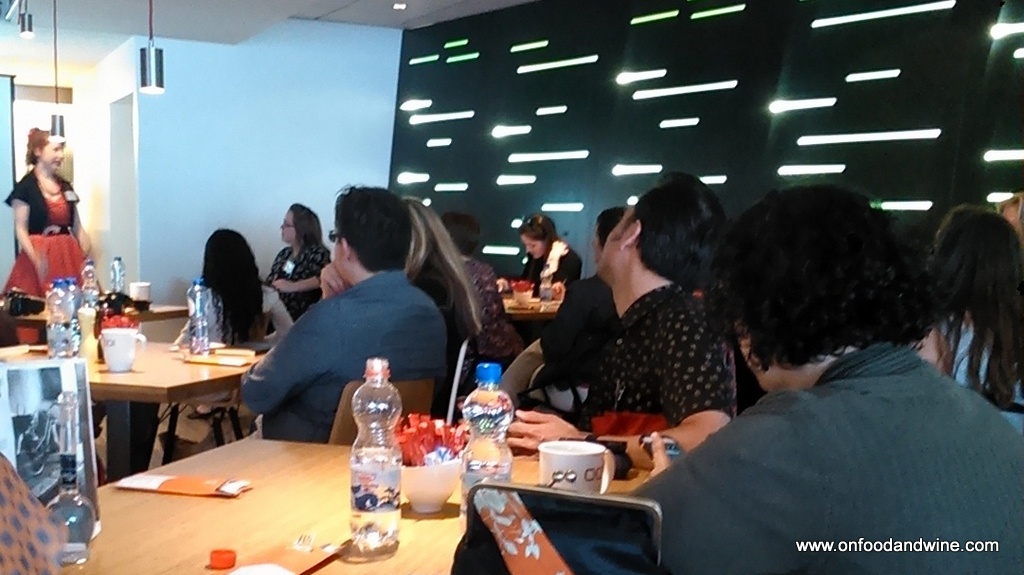 1. Find your inner voice … and use it  
Which basically translates to finding your voice online. Everyone has a different style and social media brings that to the forefront. Irrespective is you write a blog, are active on Facebook or not, Twitter or not, always be yourself. And be consistent.
2. Social Media
Do you have a Facebook page for your blog? I didn't until recently but once established it is such an easy outlet for all those other food related news you want to share … and which don't fit in 140 characters.
Talking of. Twitter is an acquired short taste. I love it because 140 characters restricts me enough not to become boring. Social media traps to pay attention to? Don't over-link to your own blog posts and don't over-retweet. Build a diverse audience which doesn't feel they have already read all that …
Instagram is a fast outlet for the visual side of food blogging. As it is supposed to be 'insta' you can forget for a while the posing, the plating, the styling and share the real you, behind the scene. Oh, and don't over #hashtag
3. Expand you social network
Part of growing means learning. And there is so much out there to absorb. Vlogging is the next big thing. Don't even get me started on Pinterest. And did you know that you can connect all your social presence to schedule and share content? I didn't! Imagine my relief when I discovered Buffer and Hootsuite, which now help me from not going crazy.  Although that is still debatable.
4. Branding
To me branding equalled having a business card. Well … The importance of consistency came up over and over again. Do you use the same social media handle throughout your public presence? Same logo or personal photo? Will readers from your Facebook page recognize you on Instagram and then on Twitter and so on? Tedious at first but it does make so much sense to keep it same and simple.
5. Don't forget to engage
And then it all comes down to blog love. We are all one big community of food lovers who so happened to take the digital leap. Sharing what we love is part of who we are. But so is loving back what others post, photograph or tweet about. One dimensional push out doesn't work long term. Be a great commenter. Give feedback when asked. Like and share. What goes around comes around – even in the virtual world.
Which blogging engaging tips did you pick up and would like to share?