Our eighteenth "Follow them Friday" features 
Katie

from 365 Things I learned in my Kitchen 

blogging in English.

When did you start blogging?

I began blogging in January 2011. It was a mix of New Years resolutions and wanting to try something different, flex my writing muscles and share all that I'd learned from shopping and cooking in a country that is different to my home country – particularly one with such incredible kitchen credentials as Belgium.

How did you decide on the name of your blog?

I was thinking of everything I'd learned since I moved here ten years ago. It was also the beginning of the year, with 365 days of potential ahead of me. The rest fell into place!

What was the title of your first ever blog post?

The imaginatively titled 'First post'. The first cooking one is 'Weekend dinner – Greek'. It took a while before I started adding photos regularly too.

Do you prefer eating in or eating out?

Oh gosh… a difficult question. Errmm, can I cheat and say both? Belgium has a lot of great restaurants, and you get what you pay for, from steaming mounds of pasta for relatively next to nothing in bars and brasseries, to the high end restaurants. I have very rarely been disappointed here. On the other hand, a home cooked meal cannot be beaten.

What is your favourite dish to share?

Every occasion has its moment. During the summer, I love a spread of Middle Eastern mezze and salads with a barbeque. For larger family gatherings, I go for easy casseroles that can be prepared in advance. When it's just the two or three of us, I think a well-made lasagna cannot be beaten.

What is your favourite comfort food?

Lasagna, lots of it, or creamy mashed potato (I am Irish…), or Birds custard from a tin.

What is your favourite dessert?

I recently quit sugar, so my dessert consumption has decreased radically. Prior to this, it was sticky toffee pudding or apple crumble. Nowadays, its cheese.

How do you like your eggs in the morning?

Scrambled, with toast and bacon, and lots of tea (Barry's).

Was there a particular dish that got you into cooking?

I suppose it was helping my mum make the Sunday lunch every week. She'd make a couple of loaves of brown bread, roast chicken with mash and veg and then an apple pie. I'd make biscuits from the left over pastry.

What has been your biggest recipe failure?

For those that remember (that'd be me and my husband), it was the ingenious 'macaroni cheese everything', where I had the brilliant idea of including leftover Christmas dinner, so there were these nuggets of succulent turkey, ham and sausage meat and chestnut stuffing nestled between the pasta. The not so good idea was the inclusion of the leftover Brussels sprouts. Oh gosh! It was vile, and the lot unfortunately sent in the bin. We ordered Chinese – after my step daughter had eaten a small portion of the macaroni, and gone to bed. We were laughing about this only this weekend, and she doesn't remember it at all. What she does remember is the butternut squash and mushroom lasagna. She reminds me of it regularly, and reminds me to never make it again. It was edible, but only just about.

What is your earliest food memory?

Making 'communion', using the local McCloskey's white bread and water. It was vile, so I included raisins. It was still vile.

What are the three things you always have in your freezer?

Stock, frozen vegetables and bread. Can I add a note about fridges? I think that no fridge should ever be without a bottle of bubbles, so I always have a bottle of something sparkly in there, cos you never know when you're going to want something that pops to celebrate the tiniest little event.

How do you spend your time when you're not blogging?

I cook a lot, and I love going to restaurants. I've just taken up running, to negate the eating. I also began crocheting last year (long story) and I now love it.

Who are your favourite food bloggers?

I really like the approach and photos from the Brussels Sprouts ladies.
More than Beer and Waffles is a lovely read, as she shares her enthusiasm for discovering a new country and all that that brings.
For recipes and ideas, I like The Brussels Cooker (simple recipes written with gusto) and Real Simple Food – it does exactly what it says on the tin! – and I love reading all the extra tidbits of information she gives.

Who are your favourite non-food bloggers?

I regularly visit Neros Post for crochet inspiration and help.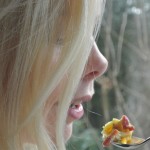 Share the LOVE & remember to follow "365 things I learned in my Kitchen" on:
TWITTER, or follow the BLOG