Our 37th "Follow them Friday" features Alicia of Alicia's Kitchen Antics 

blogging in English.
When did you start blogging?
I started blogging two years ago on the 18th of January. I did everything in a hurry, I think I had to leave quickly so I snapped a picture of the food (beetroot soup in a mug) and left the house while posting. *Naïve 😉
How did you decide on the name of your blog?
I decided on the name of my blog because I like the word "antics". It really describes what I do in the kitchen quite perfectly.
What was the title of your first ever blog post?
"A door closes, a window opens." I had just lost my job and starting up a blog kind of helped me through. My blog was also a main point of discussion at the interview for my new job with my then boss Marta (Majewska). Don't mind the pic though… I should redo that 😉
Do you prefer eating in or eating out?
That really depends. I have a busy job and play team sports twice a week so when you get home late and feel tired sometimes I like to go for a take-away, especially after a match. But I do try and cook almost every night, especially when there is time to think of something new to try, go grocery shopping and experimenting in the kitchen with the ideas and ingredients. I also love having people over for dinner, anyone is welcome 🙂
What is your favourite dish to share?
Dim sum. Hands-down. All of them.
What is your favourite comfort food?
Home-made lasagna or marmite and butter on toast. Throw in a couple of baked beans and I'm a happy bunny.
What is your favourite dessert?
I am not a dessert person. At all. But sometimes I'll have something sweet. If I have to choose and there is no cheese platter,  I would go for a classic crumble. Apple, rhubarb, berries… any will do!
How do you like your eggs in the morning?
Scrambled on mashed avocado or a crispy egg sunny side-up. Depends if I'm feeling healthy or not 😉
Was there a particular dish that got you into cooking?
Not so much a dish, rather it was more the influence of my grandmothers. Both very good cooks and they each have/had their own signature dishes: A family recipe of hare in a savoury brown sauce and stewed plums in warm sauce Anglaise. Honorable mention to my mum who is also a great cook but I don't know if she's figured out her signature dish yet… 🙂
What is your earliest food memory?
My earliest food memory is me refusing to eat my raw tomatoes and my dad calmly reading the newspaper, waiting for me to finish them. I was not allowed to leave the table until I did and I think I held out for a couple of hours. In the end I ate them and now I love tomatoes. I eat them almost every day!
What are the three things you always have in your freezer?
Peas, shrimp and leftovers. So many leftovers.
How do you spend your time when you're not blogging?
I work for a social media agency, which takes up most of my day. In the weekend I play hockey, help out at the club and spend time with my cats. All of this time would be better spent cooking, blogging and practising my food photography, but I never said that 😉
Who are your favourite food bloggers?
One of my faves is "Princess Misia" (Marta Majewska). I learn(ed) a lot from her and she lets me borrow props, which is always a plus 😉 I also regularly check out "I am a foodblog" and "The food in my beard". Currently I am on a Whole30 and my go-to is "NomNom Paleo".
Who are your favourite non-food bloggers?
Well, these tend to be my friends' blogs such as La Fille Du Quatrième and Scene by C. I also love Speaking Through Silence's photography blog!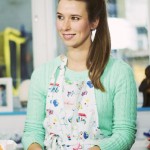 Share the LOVE & remember to follow Alicia's Kitchen antics on:
FACEBOOK, TWITTER, INSTAGRAM or follow the BLOG