Our

 58th "Follow them Friday" features Amylia from Cookameal who

blogs in Dutch.

When did you start blogging?

I was just thinking when answering this question … "the start of cookameal… that's almost 2 years ago". So I checked the date of my first article and it's TODAY! Can't believe it but today is the 2nd birthday of my blog cookameal! WAUW! (note: today is 01/07/2015)

How did you decide on the name of your blog?

Cookameal is actually a play on words using my name Amylia. We were brainstorming with friends and suddenly one of them came up with "cookamyl". I really liked the sound of that but changed the orthography to "cookameal".

What was the title of your first ever blog post?
"Chocoladetaart met kokosnoot"
What is your favourite dish to share?
No doubt about that: homemade pizza!
What is your favourite dessert?
Difficult question… but it must be ice cream. I could eat ice cream every day and by that I really mean every day from spring 'till winter! Yummie!
How do you like your eggs in the morning?
Scrambled and made with love!
What are the three things you always have in your freezer?
Ice cubes, ice cream and homemade spaghetti sauce.
How do you spend your time when you're not blogging?
Cooking off course… and spending time with my wonderful husband and amazing friends!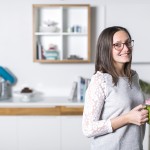 Share the LOVE & remember to follow Cookameal on:
TWITTER , FACEBOOK, or follow the BLOG