Our 48th "Follow them Friday" features Brad of Belgian Foodie

blogging in English.
When did you start blogging?
Officially in September 2014
How did you decide on the name of your blog?
I've been using the name of Belgian Foodie on Pinterest for about 3 years now. It was a character I developed to hide my identity so people doing Google searches on me would not find out about my Pinterest hobby.
Do you prefer eating in or eating out?      
Both. It depends more on who is cooking and who my company is.
What is your favourite dish to share?
My favorite to share might not be my favourite dish but rather the one that others keep asking me to make for them.       I'd have to say my chocolate chip cookies, brownies, sugar pie and cheesecake. I'd like to be known however for my savory dishes….perhaps my chicken enchiladas, pork carnitas or dim sum.
What is your favourite comfort food?
Ice cream!
What is your favourite dessert?
If I'm indulging, then vanilla ice cream with either brownies or chocolate chip cookies…or why not both?
How do you like your eggs in the morning?    
In the fridge. I'm not an egg person in the morning. I'll have them more often for lunch or supper.
Was there a particular dish that got you into cooking?
Probably my brownies..or should I say my grandmother's brownie recipe?
What has been your biggest recipe failure?
Hard to say, I've had many failures but I've usually been able to turn them into something good..for example mixing a fallen cake with vanilla ice cream and putting it back in the freezer to be able to serve cake and ice cream (like cookies n' cream).
What are the three things you always have in your freezer?
Spinach, lemongrass stalks, and herbs.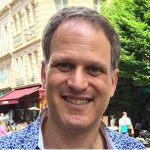 Share the LOVE & remember to follow Belgian Foodie on:
TWITTER , FACEBOOK, INSTAGRAM or follow the BLOG