Our seventeenth "Follow them Friday" features 
IVAN

from FOOD & WINE GAZETTE 

blogging in English.

When did you start blogging?

I started blogging sporadically in 2009 but did not have the discipline to carry on which was a pity. Eventually I took the plunge again at the end of May 2014 and used my domain name which was not ideal. I set myself a target to find a proper name by the end of August and missed the target by a few days.

How did you decide on the name of your blog?

I looked at the content I was producing and what I most passionate about and it was mainly about food and wine. I was actually amazed that the domain name was not taken. So once I came up with the name together with my wife, we instantly agreed without any further discussion. From idea to name registration, it took us maybe 10 minutes.

What was the title of your first ever blog post?

I deleted the old content though I now regret it. But the first post was – A promise to myself – which was aimed at publicly stating that I will blog more frequently. Since then, I have managed to blog on average around 6 times a week which has surpassed my expectations. But the more I write, the more I want to write so hopefully the momentum will be retained.

Do you prefer eating in or eating out?

No particular preference other than to say that eating out has to be special. What I hate most is when I go to a restaurant and end up being disappointed because I say that I can do better. And that happens very often unfortunately. So when I write about a place it is really because I consider it special. Cooking is a passion and my wife bakes exceptional cakes and desserts so we are a great team. What I look for when I eat out is for the same passion I have for good produce. Then I also want to be surprised with dishes or food combinations that I had never tried before. When I go to a restaurant, I want to try things which I cannot do at home. For example, you will rarely find me eating pasta outside Italy or Malta unless it is an Italian restaurant that I really know, or which comes with a really solid recommendation.

What is your favourite comfort food?

A good pizza (with great ingredients) or a pasta with any type of fresh seafood which I can prepare in less than 20 minutes.

What is your favourite dessert?

I love lemons and my wife's lemon tart is really something special. Lemon sorbet is always a winner for me though I can also love all things chocolate.

Was there a particular dish that got you into cooking?

I grew up in Malta and often went on holiday to Sicily. Sicilian cooking really got me into cooking. Probably one of my first experiments was a linguini with prawns, pine nuts and pesto which I tried in Palermo. Another dish that really got me into cooking was a pasta with prawns, tomato sauce and pistachios which is excellent.

What has been your biggest recipe failure?

One of the first times I cooked for my wife, we bought fresh fish ravioli and I was making a simple fresh tomato sauce with the wonderful Maltese summer tomatoes. Being not too experienced at the time, I added a huge amount of pepperoncino which was really not necessary. Luckily we are still together.

What is your earliest food memory?

Believe it or not I had a phobia of cheese, something which I have beaten and written about on my blog. I remember my mother, who also doesn't like cheese at all, trying to give me cheese and I would try to knock it out of her hand.

What are the three things you always have in your freezer?

I prefer fresh food but there are a few things we always have in the freezer. Homemade focaccia which our children adore is clearly one of them. We always have ice-cream in our freezer, since a year ago, it is mainly homemade. From time to time I cook a meat ragu and freeze portions which is perfect midweek comfort food.

How do you spend your time when you're not blogging?

Working, reading, looking after two children, cooking, wine-tasting, playing table tennis, watching sports on TV (though I do it less and less).

Who are your favourite food bloggers?

Too many to list here. But I feel inspired by so many Brussels-based bloggers all sharing a great love for food and helping people to discover the bright side of a city which has become our home.

Who are your favourite non-food bloggers?

Seth Godin, Tim Ferris are two of my favourites and among those who in a certain way influenced me to take the plunge into blogging.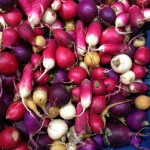 Share the LOVE & remember to follow Food & Wine Gazette on:
FACEBOOK, TWITTER, INSTAGRAM or follow the BLOG