Our 24th "Follow them Friday" features Linn of Rausmat

blogging in English & Norwegion.
When did you start blogging?
I started blogging in 2010, trying to get some structure to my most used recipes. The recipes are mostly in Norwegian.
How did you decide on the name of your blog?
Actually my ex-boyfriend is probably to blame for that – but I like it too. It means generous food in Norwegian, matching the food I'm mostly interested in making my self; tasty, but not overly sophisticated.
What was the title of your first ever blog post?
I think it was called «Not only bread and butter»
Do you prefer eating in or eating out?
It really depends on the setting, currently I work too much to be cooking a lot at home. But having friends over for brunch or a good Sunday roast is probably what I enjoy the most. I do love to explore Brussels'food scene, though – and travelling for me is really equal to going out.
What is your favourite dish to share?
I recently discovered that the peruvian kitchen is more than ceviche – and perfect for sharing. But I must admit I'm also one of those girls that says no to dessert, only to ask for having some from my partner in crime later.
What is your favourite comfort food?
That must be a good chili con carne. People usually think I'm a bit crazy when I tell them I add cocoa and cherry coke…
What is your favourite dessert?
I can never have enough of panna cotta and a good chocolate mousse.
How do you like your eggs in the morning?
Is there any other way than eggs benedicte?
Was there a particular dish that got you into cooking?
That must be apple cake, my grand mother was an expert.
What has been your biggest recipe failure?
Definitely trying to make sushi. And also trying to serve it. It was so bad even my father had to throw in the towel after one piece. I hadn't really had sushi before I tried to make it, so for me adding a thin layer of wasabi meant making sure that you cover the rice in a thin green layer. There should be warnings on recipes for contemporary food.
What is your earliest food memory?
Having pan cakes with blue berry jam was always something I looked forward to when the blueberries were ripe.
What are the three things you always have in your freezer?
I always keep some frozen dinners, ice cubes and frozen lemon juice. Then I'm ready for anything.
How do you spend your time when you're not blogging?
Actually my blogging has become more sporadically, I now spend more time on Instagram. I really like writing, though, so I'm not going to quit blogging.
Who are your favourite food bloggers?
I think Smitten Kitchen must be my favorite for good recipes. For exploring Brussels, Paris and London I turn to my friend Sandy from S Marks the Spots.
Who are your favourite non-food bloggers?
I really like Petite Passport– for a travel addict it's a blog that gives me a lot of inspiration and one of those that I return to frequently. For interior design I go to My Scandinavian Home – Scandinavian design is really one of the things I miss here in Brussels.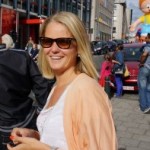 Share the LOVE & remember to follow Linn on:
FACEBOOK, TWITTER, INSTAGRAM or follow the BLOG