Our 31st "Follow them Friday" features Merel of Blackbird in Brussels 

blogging in English.
When did you start blogging?
April 27th, 2014
How did you decide on the name of your blog?
My first name, Merel, is also the Dutch word for 'blackbird'. And because the blog mainly features things to do and places to visit in Brussels, it seemed logical to also have Brussels in the name of the blog.
What was the title of your first ever blog post?
De Noordzee: for seafood & champagne
Do you prefer eating in or eating out?
Eating out! Definitely! Always feels like a mini vacation.
What is your favourite dish to share?
That would be Ottolenghi's soba noodles with aubergine and mango
What is your favourite comfort food?
Green Thai curry with vegetables
What is your favourite dessert?
I don't necessarily like very sweet desserts, but I love a good cheese platter
How do you like your eggs in the morning?
poached
What are the three things you always have in your freezer?
gingerroot, red chilli's and bread
How do you spend your time when you're not blogging?
I work full-time as a marketing professional, play field hockey and enjoy running. My weekends are mostly filled with friends visiting from the Netherlands, I love showing them around Brussels. The rest of the time is spent reading books, travelling or planning travels, learning French, binge-watching HBO series and decorating houses on Pinterest. And obviously I love exploring the city of Brussels!
Who are your favourite food bloggers?
Too many favourites, but I especially like Brussels' Kitchen, S marks the Spots and The Foodalist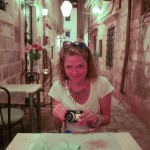 Share the LOVE & remember to follow Merel on:
TWITTER or follow the BLOG