Our seventh "Follow them Friday" features 
SIMON

from Simon Says

blogging in English.

When did you start blogging?

My first post was 12th September 2006, but I didn't start blogging about food until 7th November 2007 with a review of my trip to The Fat Duck. It never occurred to me that it would end up being one of my most popular posts and that restaurant blogging would become a regular thing for me.

How did you decide on the name of your blog?

It seemed fairly obvious considering my name.

Do you prefer eating in or eating out?

Out, definitely. I enjoy eating things I could never make myself (which means most things). I like weird food which makes me think "My god, what is that?" I also enjoy the sense of occasion when going to a restaurant, and the people-watching opportunities.

What is your favourite comfort food?

Any kind of cheese. On toast, on a four cheese pizza, or just on its own.

What is your favourite dessert?

I'm going to have to pick two, one hot and one cold: my mum's homemade apple crumble with custard, and my wife's homemade limoncello tiramisu. Both are deliciously moreish and associated with happy memories.

How do you like your eggs in the morning?

Sunny side up. With a little pepper. Although I only tend to eat a cooked breakfast when I go back to the UK. At home I grab a quick bowl of cereal before going to work.

What is your earliest food memory?

Probably the sweet shop at the end of the road. Mojos cost half a penny, Blackjacks and Fruit Salads (nothing to do with real fruit or salad, obviously) cost a penny. I miss Texan bars: chocolate-covered toffee so hard it could pull your teeth out. I also remember making toast at my grandmother's house by sticking a slice of bread on the end of her long brass toasting fork and holding it in front of the open fire in her living room. Not easy to tell when it's done, as the side which is toasting is facing away from you.

What are the three things you always have in your freezer?
Pesto made by my mother-in-law in Genova
portions of leftovers (lasagna, fish pie)
Ice for drinks
How do you spend your time when you're not blogging?
Working, taking care of our three children, travelling and reading (look for simonlitton on goodreads).
Who are your favourite food bloggers?
http://blog.bookalokal.com/
http://www.eatstowest.net/
http://whyiamnotskinny.wordpress.com/
http://gay-dans-les-coings.blogspot.co.at/
http://tastingandliving.com/
Who are your favourite non-food bloggers?
http://www.belgianwaffling.com/
http://distorte.tumblr.com/
http://erasing.org/
http://erikras.com/
http://morning.computer/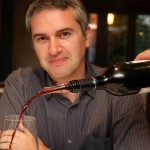 Share the LOVE & remember to follow SIMON on:
TWITTER or follow his BLOG