Our

 76th "Follow them Friday" features Emilie from Sunflowers & Suitcases who

blogs in English.

When did you start blogging?

I started blogging in 2014. I used to blog on Tumblr, but decided to launch my own blog on February 1, 2015. So I have been writing for sunflowersandsuitcases.com for about a year and a few months.

How did you decide on the name of your blog?

I wanted two words that could describe the blog and myself. I love traveling, so the "suitcases"-part was decided very quickly. And then I just added my favorite kind of flower, a sunflower.

What was the title of your first ever blog post?

The very first blog post on sunflowersandsuitcases was a DIY Chocolate Milk Jar Valentine's gift. It's not on my blog anymore, because I had some trouble with my new theme. But that was my very first blog post.

Do you prefer eating in or eating out?

I love my home, so eating in (and especially cooking or baking) is probably my preference. But I also love to eat out with good friends. My go-to place to eat out is probably a gourmet burger restaurant.

What is your favourite dish to share?

I love sharing pasta recipes! Pasta is my favorite food, so I do know tons of pasta-recipes. But on my blog, I mostly share baking-recipes.

What is your favourite comfort food?

Belgian (no, not French) fries and a burger or donuts!

What is your favourite dessert?

I'm not really a dessert-person. I love making dessert, but I rarely eat it myself! But if I had to choose, I would choose eclairs! Or donuts!

How do you like your eggs in the morning?

Scrambled.

Was there a particular dish that got you into cooking?

My mom and I used to make American Chocolate Chip Muffins together. That's what got me into food and cooking.

What has been your biggest recipe failure?

The first time I tried to make pancakes, I totally messed up the recipe and ended up having to toss the batter out.

What is your earliest food memory?

Again, Chocolate Chip Muffins!

What are the three things you always have in your freezer?

Vanilla ice cream, vegetables and leftovers.

How do you spend your time when you're not blogging?

Studying. I'm a full-time student, studying journalism. So basically writing, but not for my blog.

Who are your favourite food bloggers?

I love PeekInside.nl! She is my favorite food-blogger, hands down!

Who are your favourite non-food bloggers?

Jenniefromtheblog.com and AspynOvard.com!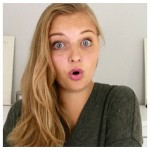 Share the LOVE & remember to follow Emilie on:
TWITTER , FACEBOOK, INSTAGRAM or follow the BLOG