Our 20th "Follow them Friday" features 
Philipp & Emily

 from Tastes of Brussels 

blogging in English.

When did you start blogging?

We launched TastesofBrussels in 2012, that's when we took our first steps in foodblogging; we had been blogging about other things before that already.

How did you decide on the name of your blog?

We sat down with a glass of wine and brainstormed ideas – after a couple of those sessions TastesofBrussels was the best we could come up with that was not already in use by someone else. Our favourite would have been foodisyourfriend.com, but that was already taken.

What was the title of your first ever blog post?
"L'Atelier Europeen" – short and simple. We've been working on our post titles since 😉
Do you prefer eating in or eating out?
That changes every couple of weeks – depending on whether we've been going to Restaurants a lot or cooking at home all the time, we regularly reach a point where we want to to the other. Until it swings back …
What is your favourite dish to share?
Curry, both home-cooked or in a good Indian restaurant.
What is your favourite comfort food?
Curry, home-cooked. Period.
What is your favourite dessert?
Ben & Jerry's ice cream.
How do you like your eggs in the morning?
Soft-boiled (Emily) and poached (Philipp)
Was there a particular dish that got you into cooking?
No. But it probably started with lots and lots of currys!
What has been your biggest recipe failure?
Greek-style stuffed peppers – somehow we managed to produce an absolutely in-edible version of this rather simple dish. And then there was that one time when we took semolina out of an unlabled box, thinking it was breadcrumbs and made some Schnitzel with it …
What are the three things you always have in your freezer?
Ben&Jerry's ice cream, Ice Cubes, Cauliflower
How do you spend your time when you're not blogging?
Working, reading, travelling – and, of course, cooking and eating!
Who are your favourite food bloggers?
In Brussels: Sandy of Smarksthespots.com and Michelle of veryhungryexplorer.com
Outside Brussels: Diefruehstueckerinnen.at, an Austrian blog about breakfast venues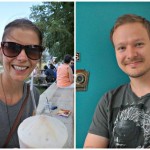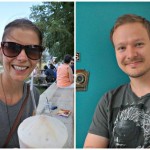 Share the LOVE & remember to follow "Tastes of Brussels" on:
Facebook, TWITTER, or follow the BLOG