Our 21st "Follow them Friday" features 
Maxine

from WhyIamNotSkinny

blogging in English.

When did you start blogging?

8 February 2012

What was the title of your first ever blog post?

A mouthful of happiness – chocolate pronutro squares – which later went on to be a recipe that was featured in a South African magazine called Taste (July 2012).
Do you prefer eating in or eating out?
BOTH! I love to cook and entertain – my father always said "If you can cook for 2, you can cook for 12" (PS – you can find me as a host for Murder Mystery dinners on Bookalokal). And of course, trying out new restaurants (or returning to firm favourites) is a big part of my social life.
What is your favourite dish to share?
Either my lasagna or my chicken pot pies recipe – both can be made in advance and can feed the multitudes!
What is your favourite comfort food?
Pasta… particularly if served by a hunk (aka – HIM, the husband) – but even at home, pasta is one of my go to meals (comfort required or not)
What is your favourite dessert?
Cheesecake – but when going to restaurants, I normally opt for a Dame Blanche (Ice-cream and chocolate sauce) because their desserts are often too sweet for me (and dare I say it – "too big" J)
What is your earliest food memory?
Baking biscuits with my granny!
What are the three things you always have in your freezer?
Frozen peas, chicken pieces and ice. (if you had asked what 3 things are always in my fridge – at least 2 of them would have been alcoholic :))
How do you spend your time when you're not blogging?
I work full-time in a Sales & Marketing position, help facilitate the Brussels Food Friends community, and the rest of the time is spent cooking, eating, reading (at least 2-3books a week) and travelling with my HIM.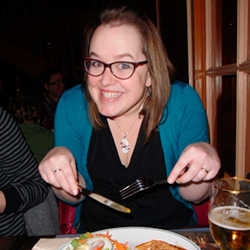 Share the LOVE & remember to follow Why I am Not Skinny on:
FACEBOOK, TWITTER, INSTAGRAM or follow the BLOG