Brussels Food Friends community is up for a Visit Brussels "New concept" 2014 award
Public voting can be done at their website up until midnight on 22 February 2015. The 3 best projects in each category will then be assessed by a jury of professional associations and winners will be announced at the awards Gala on 26th March 2015.
Brussels Food Friends community is growing:
Have started 1 year ago – it offers an online platform showcasing bloggers recipe & restaurant blog posts; interviewing & encouraging followers of individual blogs – as well as sharing details of any upcoming foodie events in Belgium – it grew from a handful of followers to an interactive community that is now at 821 followers on Twitter (@brussels_food) & 279 likes on Facebook
Actively promoting more than 133 food blogs (8 blog in more than 1 language, 57 blog in English, 13 blog in Dutch, 52 blog in French….)

10 reasons that makes Brussels Food Friends special:
It is created & executed BY bloggers FOR bloggers
It is free to join – any food blogger in Belgium can be added to the community irrespective of language (as simple as sending an email to brusselsfoodfriends@gmail.com with details of the blog)
It promotes as many food events in Belgium as possible through an event calendar
The #BxlFF events allow bloggers to finally meet the persona that they follow/support on social media face-to-face
Every day – the team at #BxlFF reads all the food blog posts of the community that have been published in the past 24hr (yes – EVERY day) and then shares them on Twitter & Facebook.
It showcases posts by bloggers every Monday with the Top5 post on the website
It showcases an individual blog every Friday with #FollowThemFriday interviews
It encourages bloggers to support each other – follow, interact & promote each other on social media – creating a support network
It gives suppliers an opportunity to present their products directly to the foodie target market through these bloggers
It creates a COMMUNITY – where irrespective of language, age, gender or race – the love of food binds everyone together
so what are you waiting for? Vote for Brussels Food Friends now!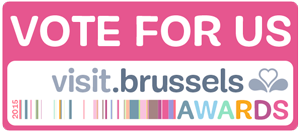 We are proud to be associated with Bookalokal who is also nominated for an award in the Best Gastronomic Concept!
Maxine is a South African experiencing her 7th year living in Brussels and still can't speak French… married to HIM who speaks 5 languages (& thankfully with French being one of them!). Loving food in all its glory… reading about it, making it and eating it! She writes Why I Am Not Skinny. Follow her on Facebook, Twitter and Instagram.