Our nineth "Follow them Friday" features 
Sid

from Coolinary blogging in Dutch (who also runs a blog called Tales from the Home Bar)

When did you start blogging?

November 2005

How did you decide on the name of your blog?

On a plane to Barcelona the name 'coolinary' came to me. I just had to do something with it and I haven't regret it so far.

What was the title of your first ever blog post?

'Coolinary'

Do you prefer eating in or eating out?

I'll have to go for eating out!

What is your favourite dish to share?

Like Joey in Friends, I don't share food

What is your favourite dessert?
Last summer I ate a great dessert called 'a sweet walk through the garden' at Hertog Jan. Can't say anything has topped that!
How do you like your eggs in the morning?
Chocolate!
Was there a particular dish that got you into cooking?
I actually don't think there is, however I've spent hours in the kitchen of my dad's restaurant so who knows.
What has been your biggest recipe failure?
I can't think of a memorable recipe failure but I do happen to accidently set myself on fire once in a while which kinda counts as a failure, no?
What is your earliest food memory?
My parents trying to hide Brussels sprouts in my mashed potatoes so I would actually eat them. As a kid I was a fussy eater, to say the least.
What are the three things you always have in your freezer?
always icecubes in various sizes (perfect cubes, iceballs, crushed ice) in my freezer,
fresh frozen homemade soups
and the odd leftovers.
How do you spend your time when you're not blogging?
Very often I spend my spare time doing things which lead to blogging. Trying out new products, or go to restaurants. On the other hand I have quite a decent relation with my loungechair. I'm the king when it comes to doing nothing
Who are your favourite food bloggers?
www.filet-pur.be
www.elidesc.com
www.hcdpierre.com and a whole bunch of other stars!
Who are your favourite non-food bloggers?
www.talesfromthecrib.be
www.vertellementen.be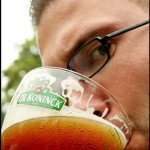 Share the LOVE & remember to follow SID on:
INSTAGRAM, TWITTER, FACEBOOK or follow the BLOG