Our 28th "Follow them Friday" features Kimbylicieux

blogging in French.
When did you start blogging?
January 2012. I started to blog for "myself" and my closest ones, I didn't really plan to make it public
Do you prefer eating in or eating out?
Joker: both! After a long working day I'm not always in the mood to cook and I can swear my coach is calling for me (do you recognize yourself too?) but eating in is most of the time for me the guarantee to eat exactly what I want, the way I want it. Being able to make that quite complicated recipe (I mean when what you have done look pretty like what it supposes to look like) enjoying the pleasure to prepare everything with a friend of your significant other, eating your foodie work of art with chopsticks even if it's not Asian food. What you want, the way you want it. But I like to treat myself too with a dinner out (more than) once in a while. From the most sophisticated place to the neighborhood spot, everything is perfect if the dish is delicious and shared with those I love
What is your favorite comfort food?
Without a doubt, raclette! I am a bit obsessed by cheese, I could eat that all day long (seriously)
How do you like your eggs in the morning?
Oh gosh, I'm tempted to say I love them no matter the way they are prepared! But I got a special crush for the poached ones, probably because it reminds me my eggs benedict breakfast while I was living in Montreal
What is your earliest food memory?
I can't be absolutely sure but when I try to remember, I always have the same scene: I'm five or six years old at my school canteen. I've decided to officially declare that the mashed potatoes in my plate is guilty to taste awful. The kids watchlady comes to me and say "I don't believe it's bad to play with food" and she starts to modelling my dish into a house. "This is the door. Open it to see what's inside". I did so and swallow the door. I was so curious to discover and imagine each next step, the interior design of my imagination that before I could realize it my plate was empty. Her name was Karima. Her face is very clear in my mind, like this memory.
What are the three things you always have in your freezer?
Actually my freezer is so small I can't have a lot of things inside. But certainly ice cubes (didn't expect that right!), matcha ice cream and homemade soup.
How do you spend your time when you're not blogging?
I am a total sport junkie, but hey, some addictions are better than others right? 😉 I read and write a lot. This is not really surprising as I started to blog to have a match between my love for writing and food experiences. I'm also craving for exhibitions and culture of all kind. And of course tasting new dishes, discovering new hot spots with my family, friends and food bloggers!
Who are your favorite food bloggers?
Ohoo, that's a trap! Me! (I'm kidding). The blogosphere is full of talented and inspiring food bloggers, that is a pretty hard question. Let's say The Foodalist, for the quality of her pictures, the blog's layout and the way how she makes us travel. I am also a huge fan of La Dinette des Grandes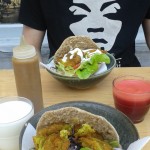 Share the LOVE & remember to follow Kimbylicieux on:
FACEBOOK, TWITTER or follow the BLOG