Our 30th "Follow them Friday" features Sophia of Real Simple Food

blogging in English.
When did you start blogging?
I tentatively started blogging almost 4 years ago but only decided to have a serious go at it with regular posts just over 2 years ago in June 2012.
How did you decide on the name of your blog?
Real Simple Food is both a play with my last name and also represents my approach to home cooking and eating – without wanting to sound preachy, I believe meals should be prepared with great quality ingredients (avoiding processed food as far as possible) and dishes should not be unduly complicated but let the individual ingredients' flavours shine – whether you are preparing a Minestrone soup or a Black Sesame Seed Cake.
What was the title of your first ever blog post?
"I am not quite there yet …" – it was about my journey to finding the best chocolate chip cookie recipe, a journey which I felt I had not yet completed when I started blogging. These days I don't believe there is such a thing as the perfect chocolate chip cookie – there are so many delicious recipes and variations! A while ago I played around with a chickpea flour version (as per below) which turned out incredibly moreish and after trying deliciously malty roasted barley tea on a recent trip to New York, I am now thinking a toasted barley flour version should be the next variation I try!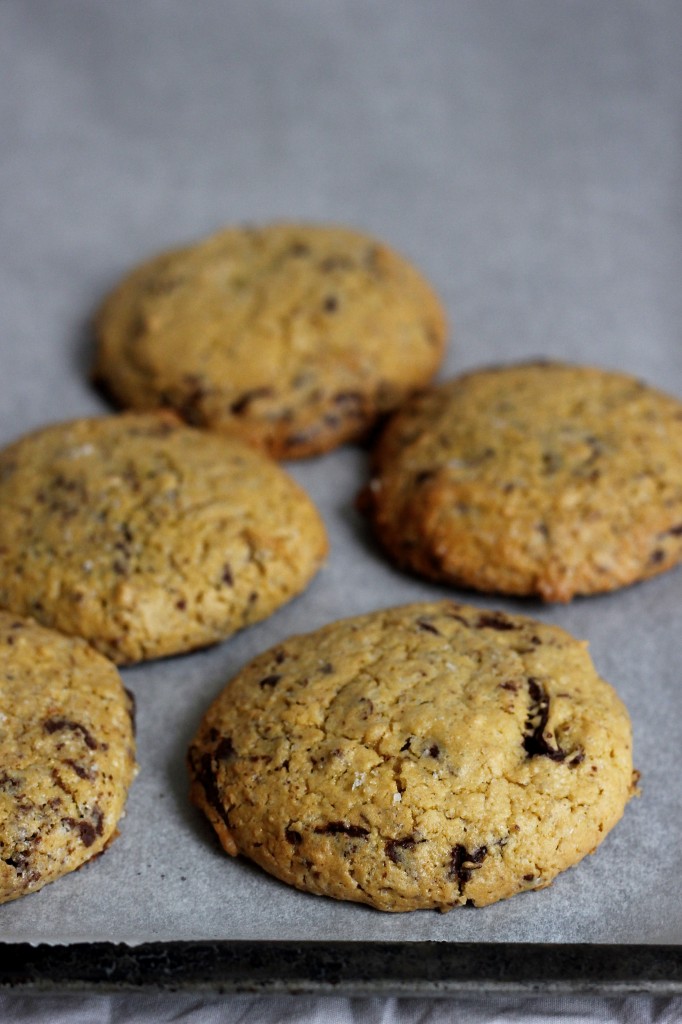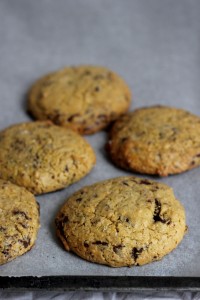 Do you prefer eating in or eating out?
I am forever torn between the two – I love going out for dinner with friends to try out new restaurants and different cuisines. That being said, I love cooking for friends and family – I love the process of coming up with a theme, thinking up dishes and recipes around that theme, picking up the ingredients, preparing the meal and then, finally, pouring myself a large glass of wine and joining my friends at the table to enjoy the fruits of all that labour.
What is your favourite dish to share? 
It would probably have to be David Chang's Bo Ssam (a Korean barbecued pork shoulder dish), partly because it is impossible for a single person to eat an entire pork shoulder. I don't eat a whole lot of meat but when I do, I like it to be something special, not just in terms of the quality of the meat but also the preparation. Bo Ssam takes some time to prepare (the pork shoulder is first cured overnight in salt and sugar before being cooked in the oven on a low temperature until very tender – which can easily take 6 hours), but requires very little active work. Served with sticky rice, scallion sauce, spicy Korean chili paste, lettuce leaves and plenty of cold beer it is the perfect meal for sharing with friends and one that seems to have universal appeal.
What is your favourite comfort food?
Hands down my mum's French vegetable soup. I don't know where the recipe comes from and whether it is French at all but that doesn't really matter when you are presented with a steaming bowl of soup which, under a generous serving of vegetables hides a couple of slices of toasted baguette topped with a dollop of homemade aioli, grated cheese and fresh parsley. It can be a mess to look at (the cheese immediately starts to melt once the soup is poured into the bowl and the aioli then floats to the top and starts turning the clear broth opaque) but it just tastes divine. It is probably the dish that me and my siblings have prepared for others most often and we have yet to meet anyone who does not fall head over heels for it.
What is your favourite dessert?
This is a really tricky question for me – I have a serious sweet tooth and there are so many desserts I adore! My dad's tarte tatin is definitely in the top 3 though – he lets the caramel go darker than I ever would and it gives the tart tatin so much depth of flavour. Also, he serves it with whipped creme fraiche and that slight tang is so good against the buttery rich and decadent tarte.
How do you like your eggs in the morning?
Ideally sitting safely in their carton in the fridge – I am not big on eggs in the morning. I do make an exception for Easter Sunday though, when nothing beats a hardboiled egg topped with homemade aioli on my mum's sourdough bread. Otherwise, breakfast for me is a steady rotation of porridge topped with fruits and maple syrup, chia pudding with almond milk and fresh berries or leftovers from recipe-testing for the blog.
Was there a particular dish that got you into cooking?
It would probably have to be my mum's cous cous. Before I was born, my parents spent a couple of years living in Rabat, Morocco, and growing up it was one of my favourite dishes to eat. When I spent a year working in Austria after finishing my A-levels, it was one of the first recipes I asked my mum for. I can still picture the page of my recipe notebook with a long list of ingredients, none with a quantity! However often I make cous cous myself, nothing compares to my mum's version.
What has been your biggest recipe failure?
Miso Blondies. The miso gives the blondies this wonderfully complex flavour, reminiscent of malted milk but with a savoury edge. Despite numerous attempts I have still not settled on a recipe I am perfectly happy with. However, I refuse to call this blondies recipe a failure – I like to think it is just taking a little longer to develop than other recipes I have worked on.
What is your earliest food memory?
On my third birthday we moved to a new neighborhood and I still remember sitting in our new driveway, on some water crates that had been turned upside down, and eating salami sandwiches my mum had prepared for the movers and the rest of the family and feeling pretty 'grown up' and part of the team in being allowed to help with the move (even if in all likelihood I was not allowed to help at all and was instead being babysat by my teenage sister).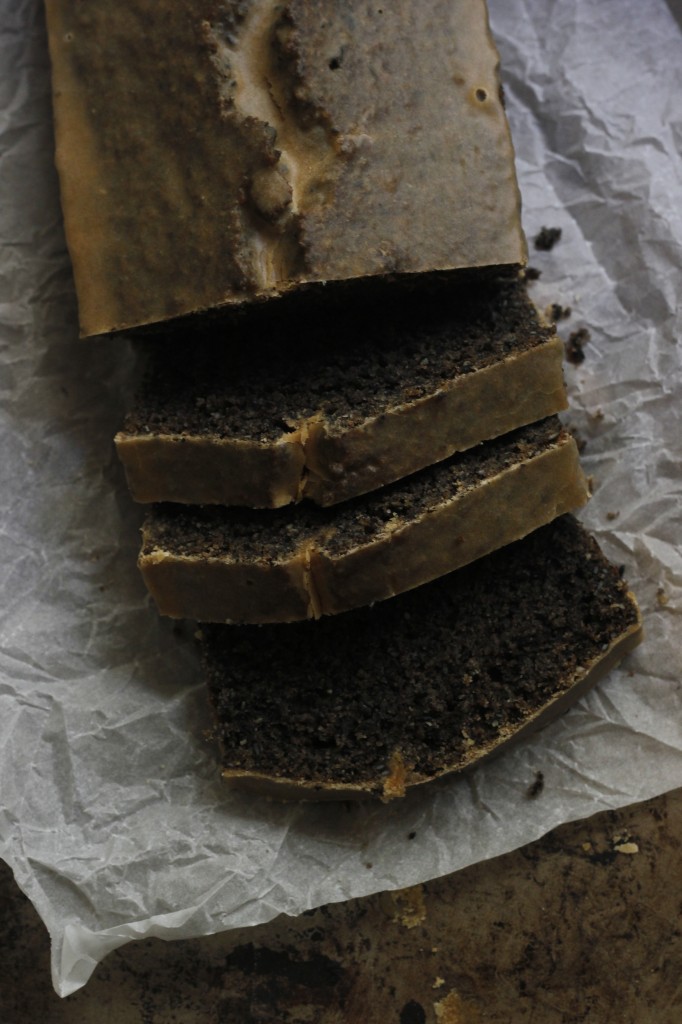 What are the three things you always have in your freezer?
Frozen berries for smoothies, pancakes and oatmeal toppings; almond pulp (I started making my own almond milk earlier this year and just keep the almond pulp in the freezer until I have enough for a flourless cake or to make granola) and ice cubes (I love iced coffee and iced tea).
How do you spend your time when you're not blogging?
During the day I work as a commercial lawyer. But when I am not at work or busy working on the blog, I love to travel – whether to see friends near and far or to discover new places. I also love sitting in coffee shops both to people watch and to enjoy great coffee – I only recently moved to Brussels so I am having great fun discovering the local coffee scene.
Who are your favourite food bloggers?
Like many people there is a long list of food blogs I keep up with on a weekly basis and that list only seems to be growing. The blogs I turn to time and time again and that inspire the most what I make in my own kitchen are the First Mess (thefirstmess.com), Dolly and Oatmeal (dollyandoatmeal.com), Sprouted Kitchen (sproutedkitchen.com), Greenkitchenstories (greenkitchenstories.com) and 101 Cookbooks (101cookbooks.com).
Who are your favourite non-food bloggers?
When I moved to Brussels in April 2014, it was the first time in over 10 years that I moved into an unfurnished flat by myself. Hence, other than reading food blogs I now spent a fair amount of time browsing interior design blogs such as designsponge.com or apartmenttherapy.com.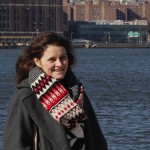 Share the LOVE & remember to follow Sophia on:
TWITTER, INSTAGRAM or follow the BLOG