Our thirteenth "Follow them Friday" features 
ALEXIA

from MUST BE YUMMIE

blogging in Dutch & English (since Oct 2014).

When did you start blogging?

I started blogging in May 2013 because at that time I had some extra time on hand and I wanted to share my best recipes and resto & travel tips. I was always sending out recipes by mail and advising on nice hotels and restaurants and now I can just share them on my blog.

How did you decide on the name of your blog?

Spur of the moment. We were brainstorming and toying with Yummie in my tummy, yummie… and suddenly there it was must be yummie.

What is your favourite dish to share?

My favourite dish to share is a great stew in winter or some tapas and mezze in summer. When I have friends over for dinner I make a lot of different plates so everyone can taste a bit of everything according to their taste and likes. And if I am on a date with my husband…oysters and seafood. Delicious!

What is your favourite comfort food?

Spaghetti al ragu (which is a fancy name for Bolognese pasta – I have my own secret recipe, I will share it on the blog one day) or baked salmon with mashed potatoes and horseradish

What is your favourite dessert?

That would be flourless chocolate cake (gluten free) or the pain perdu at Te Kook restaurant in Antwerp. To die for!

How do you like your eggs in the morning?

Eggs Benedict with smoked salmon and fresh spinach when I have breakfast at Demaré in Knokke. Plain sunny side up with bacon when we stay at home.

Was there a particular dish that got you into cooking?

Chocolate cake and the gratin Dauphinois my father used to make when we were kids

What has been your biggest recipe failure?

My first gluten free breads, waffles and pancakes were disasters!

What is your earliest food memory?

Eating Spaghetti Bolognese at the age of 6 in our hotel bedroom watching the lakeside Disney Parade in Disney World. The best pasta but maybe that was because of the whole parade – roomservice – Disney combo? Japanese show cooking is a memory from that same trip – I still love Japanese food.

What are the three things you always have in your freezer?

Raspberries for smoothies (like below), salmon steak and edamame beans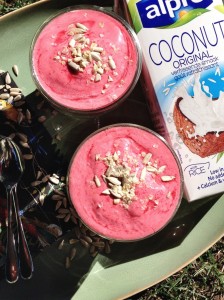 How do you spend your time when you're not blogging?
Cooking with (or without) my kids, going out with my husband and last but not least working in fashion as International Account Manager for the Belgian fashion group FNG International.
Who are your favourite food bloggers?
There are so many good foodbloggers….my favorite would be Heidi Swanson. She has great recipes and beautiful pictures.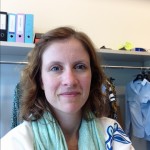 Share the LOVE & remember to follow ALEXIA on:
INSTAGRAM, FACEBOOK or follow the BLOG